Controllable Lighting for Drone Inspection
Drones has been used as an eye in the sky for a number of years in both indoor and outdoor inspection/surveillance. Drones are able to navigate faster and through tighter corners in comparison to humans or ground robots, and is considered a strong competitor to any other forms of robotics automation, due to:
High availability
Lower capital cost
Lower amortization values
Good quality imaging is equivalent to the quality of inspection/surveillance. Camera performance is highly dependent on surrounding lighting conditions, which affects:
Speed of camera shots, resulting the movement speed of drone manoeuvring
Sharpness of image
Clarity and resolution of images
Vision analytics are empowering drone camera footages with advanced Artificial Intelligence (AI) to achieve some form of automation. Many applications include bar code/QR scanning, object identification or words/pattern recognition. More than often the results of the AI are dependent on the image quality, which traditionally plaques drones in poor lighting conditions, severely handicapping the drone work effectiveness and value.
Cameras are essentially electro optics sensors. Ideally a camera obtains the sharpest image when the shutter speed is the lowest, and least noise at the lowest ISO settings, and more surrounding details with a smaller aperture setting. All these parameters thrive on good lighting sources, which is unfortunately in the mercy of surrounding lighting conditions.
One popular method to enhance the environment lighting is through mounting a light source on the drone. Due to weight and power sensitivity of drones, it can only carry a traditional light source of limited performance.
Impact of Nact Lighting Solutions
Nact Engineering has developed the S@N10K to be fitted on small commercial drones so as to achieve short and medium range lighting comparable to day lighting conditions. Weighing only 150g and the ability to throw 10,000 lumens of lighting in a versatile package, the S@N10K is uniquely suited to be mounted on drones and robots alike. Of note, significant details are captured by the drone which was traditionally not possible.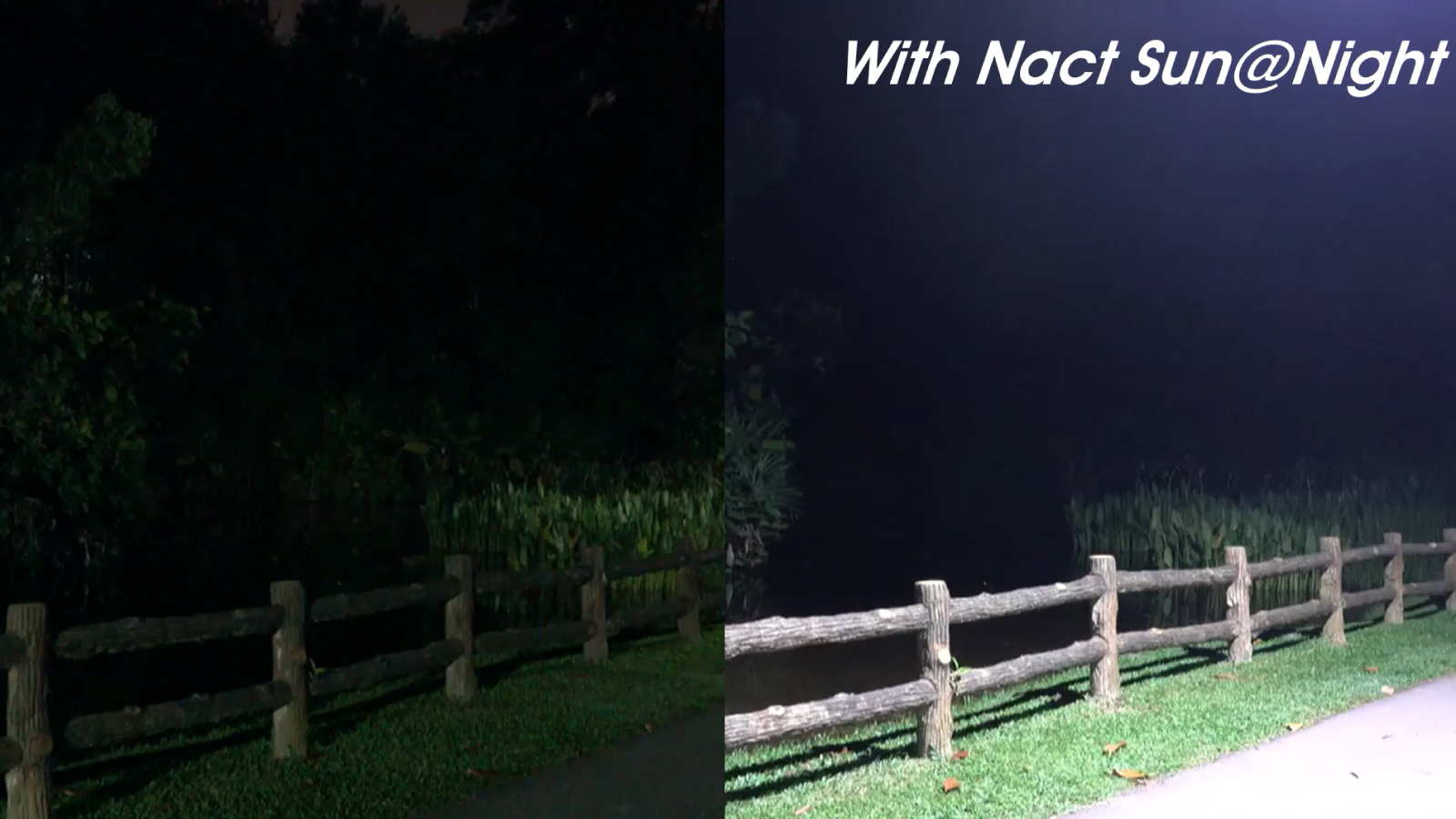 On top of powerful physical performance, the Nact S@N10K lighting comes with adjustable lighting in steps of 1000, allowing users to make minute changes to the light output so as to achieve the very best amount of illumination for the best camera and AI results. Thus, the very same lighting solution can be adjusted on the fly for both day and night, outdoor or indoor applications.
Contact us at info@nactengineering.com if you want to find out more about our powerful light core range.