5 things to consider before buying a drone (for commercial use)
Drones have proven with time that they make tasks more efficient and effective. This has led to more companies turning to unmanned aerial vehicles (UAV) for work or recreation and an increasing number of drone companies offering similar products.
But with the drone market saturated with over 100 companies selling with different specifications, how do you know if you're getting your money's worth? We break down the 5 key things to consider before you buy a drone for your business.
1. What will you use it for?
As the purposes for drone use increase over the years, so have the number of drone companies. Purpose-built drones are available for a host of activities such as photography, surveillance, military use and industrial inspections that needs to be adapted to a multitude of uses. This makes it important for you to decide what is the primary use of the drone before purchasing to avoid making a costly mistake.
For example, the DJI is a great prosumer drone that allows seamless integration between its inbuilt camera and other inspection applications. The Zenmuse camera system works with FLIR's Aerial Thermal Imaging Kits to provide the tools required for various inspection types. This kit allows your company to conduct utility inspections, solar inspections and building and roofing inspections.
Coupled with NACT Engineering's Tether 2K – Leviathan UAV kit, companies are able to get up to 10 times the amount of usable images for inspection purposes and to unlock all the restricted zones.
The Leviathan UAV Kit can be paired with an ultra-lightweight light payload, Sun@NightTM, that is mounted on the drone to brighten up the surfaces for inspection and even conduct inspections at night.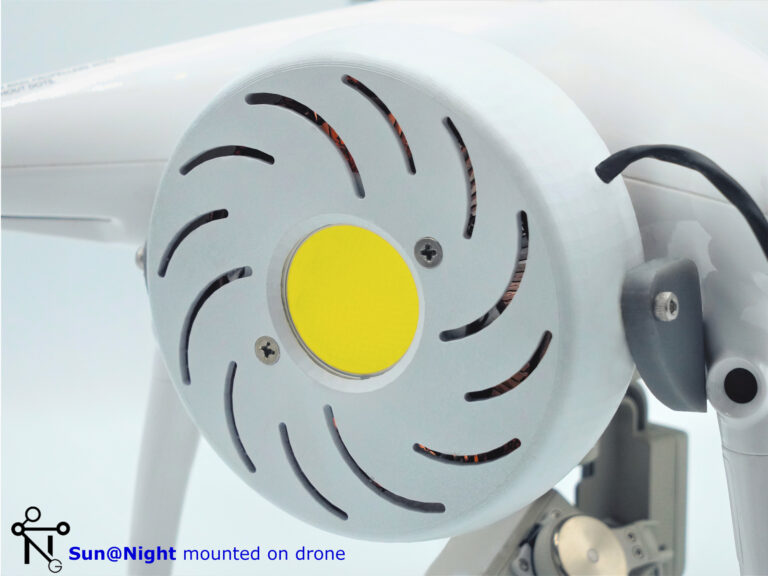 2. What is your budget for drones?
Cheap drones can go for as low as USD 100 . Typically, drones of that price range are made with low-quality plastic and poor resolution cameras. Furthermore, cheaper drones are harder to operate because they lack the sensors that the more expensive drones have.
Although a more expensive drone has an initial high sunk cost, future savings are guaranteed because you save on long term repair and maintenance costs. Not to mention it also means you get the support you need. A peace of mind and a successful operation boosts your drone pilots' morale and productivity to spend more time on things that matter to your business/institution.
3. What features does the drone provide?
When procuring a drone for your company for the first time, understanding the drone marketplace jargon that comes with the device can be very helpful.
Here are some of the more common ones as suggested by Joshua Goldman of CNET:
Ready-to-fly (RTF): Drones that require little to no assembly
Bind-n-fly (BNF): BNF models are essentially RTF drones with a receiver, but not a radio controller (you must buy it separately). The advantages of having your own radio controller is that you can then use it to pilot other BNF aircraft, saving you some money if you decide to grow your RC aircraft collection.
First-person view (FPV): The video feed direct from a camera on the drone. It can be used for framing your photos or videos as well as piloting. With drone racing, pilots usually wear FPV goggles for an immersive experience.
Return-to-home (RTH): A safety feature that allows the drone to autonomously fly back to the pilot's location or starting point.
Gimbal: A mechanical camera stabilisation system that allows for a smooth filming and sharp photo-taking even among turbulent weather and high-wind environment.
Headless mode: This mode for beginner pilots enables the drone will always travel forward, backward, left or right when moving your remote's stick in those directions, regardless of which way the front of the drone is pointed.
Follow me: A feature that allows a drone to automatically follow a subject, typically using a GPS signal from a mobile device, remote control or a beacon attached to the subject being tracked.
Brushless motor: Though more expensive than their brushed counterparts, brushless motors are more efficient, last longer and are quieter. This enables to user to save maintenance costs as brushless motor's reduce the need to replace parts due to wear and tear.
4. What are some of the regulations in your country?
Different countries have various regulations surrounding the use of drones and knowing them is key to flying yours legally. For example, in Singapore, drones that are below 7kg do not have to be registered but cannot be flown in restricted or dangerous areas, over crowds and higher than 200 feet. And in the Philippines, the maximum weight a private drone can be is 1.5kg, otherwise it has to be licensed. It is important that you understand the regulations so as to fly your drone safely and responsibly.
With a tethered solution, you may be able to expedite permits for flying, or may not even require them altogether depending on your drone size. Furthermore, tethered boxes provide regulators with a peace of mind that there will be no "fly-away" situations given that the signal is transmitted by the wire, making it possible to fly in situations where external signals become sensitive to the work such as in the oil and gas industry.
5. How easy is it to get replacement parts?
lastly, as with any piece of technology, drones are subjected to wear and tear. The availability of replacement parts and the ease of maintenance is important in order to ensure that your drone can last your company for a few years. Before buying your device, you should check if the manufacturer or distributor sells spare parts like propellers, controllers, motors and batteries.
Drones are expensive pieces of technology and it is important for you to do your homework to find out the ideal device for your company's usage. Contact us at info@nactengineering.com if you want to find out more before embarking a project requiring drones.