Leader In An Emerging Technology Revolution of IoT
More Advanced
More Performance
More Pro

UNLEASH YOUR POTENTIAL WITH THE ULTIMATE NEW SMART TETHER SYSTEM
Say goodbye to the hassle of complex setups. Smart Tethers can be easily accessed and controlled via computers and phones, giving you the freedom to manage your operations from anywhere, at any time. With just a few taps or clicks, you can remotely pilot the drone, access live video feeds, and review recorded data effortlessly.
Real-Time Angle Sensing Analysis is capable of continuously measuring and analyzing the angles of a drone's orientation or attitude in real time. This analysis is crucial for ensuring stable flight, accurate positioning, and precise control of the drone.
Live Feed Ground Camera to Monitor Drone Movability.
Experience complete control with the fully controllable Ground Camera, designed to provide a comprehensive view of both the drone and the ground surroundings. With a wide 360° horizontal and 114° vertical range pan/tilt field of view, this camera ensures no detail goes unnoticed.
Have the convenience of easily adjusting the camera view through the smart tethers web and exploring various viewing options via a dedicated web interface. 
Fishing Mode: Adjustable Tension Output and Frequency of the Tugs on the Tether Cable for Better Strategic Control of Drone Operation with Minimum Obstruction
Cable Limiter: A Mechanism that Restricts the Length of The Tether Cable to Maintain Operational Safety And Prevent Damage or Disruption to The Drone During Operation
Designed to meet the demanding Mil-Std 810G and Mil-Std 461 specifications, this versatile military-grade auxiliary connectors not only simplify setup and operation, but also provide enhanced convenience and compatibility in various environments, requiring less than a few seconds for setup.
For maximum security, it has the capability to connect multiple ground cameras through an Ethernet cable. Alternatively, it can also establish a wireless connection to integrate with additional NACT Smart Tether Ground Cameras, providing the advantage of a wider viewing range.
Additional Ground Cameras Eyes In The Sky:
Concept of augmenting aerial surveillance systems with supplementary ground-based cameras to enhance the surveillance capabilities from above and provide a broader and more comprehensive view .
These cameras are strategically placed to cover blind spots or areas not effectively monitored by aerial surveillance systems and leading to improved safety. Enhance monitoring situational awareness, with better data collection, and analysis in various domains.
Off-Site Web Control of Smart Tether Drone SysteM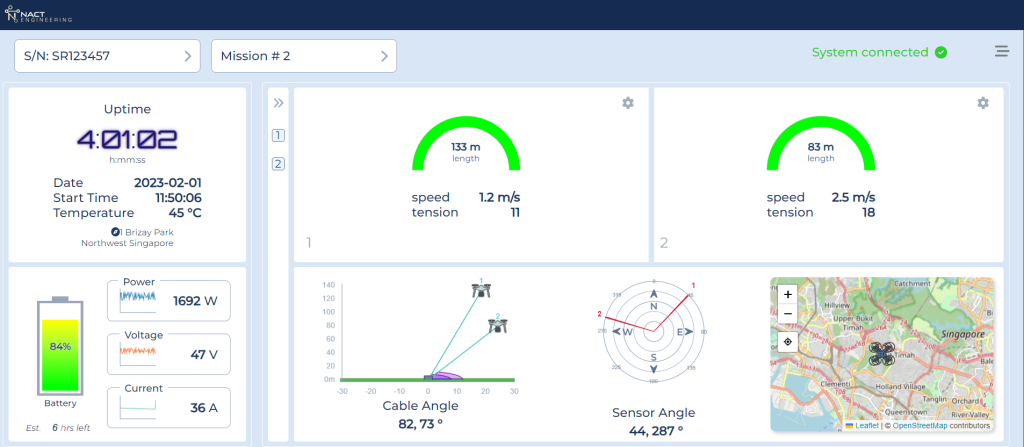 – iOS and Android Mobile Friendly
– Real-Time Reporting of System Status: Battery Level, Voltage, Current, Tether Location, and Cable Speed
– Adjustable Tether Length and Cable Tension
– Live Feed Ground Camera to Monitor Drone Movability
– Data Analysis(Chart): Power Stats, Cable Stats"
Trackable Drone Flight Pattern on Map
– Emergency Withdrawal of Tethered Drone
– System Warning Alerts to Drone Operators on Potential System Safety Risks
Everything In Enterprise Standard, Plus : 
– Controllable Ground Camera to Scout the Ground Surroundings. (360° Horizontal And 114° Vertical Range Pan/Tilt Field of View)
– Real-Time Angle Sensing, Determining the Location of Tether Station Against Tethered Drone Location (GPS)
– Tethered Drone Returns to Land
– Data Export to xls file for Further Data Analysis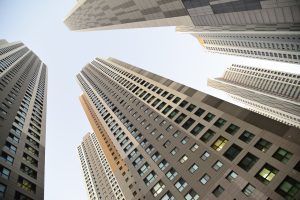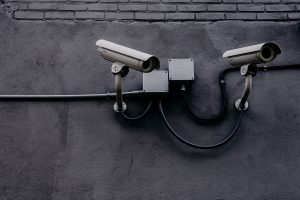 Obtain further information by requesting for the product brochure
We're available for 8 hours a day!
Contact us to require a detailed analysis and assessment